A Hero's Heart by Terri Marie
In the deep of winter, the slopes have been warmed by this skier's spirit for over 70 years. That skier is Stein Eriksen.
Called by some a Nordic God, his physique strong, his eyes blue and deep as the northern sky.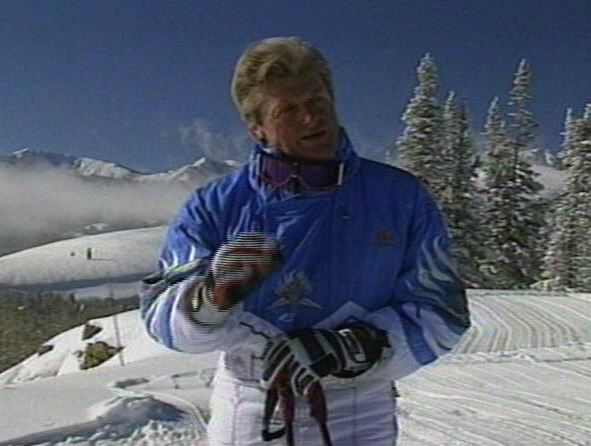 The first project I did with Stein was called "Stein: A Man & His Mountain." In that documentary I wanted to tell the story of this amazing man and how he ended up at Deer Valley Resort. Deer Valley Resort was built to emulate the grand resorts of Europe. It become the most luxurious resort in the country.
Back in the 40's, Stein and his friends trained in hidden hills away from the watchful eyes of the Nazi occupation of their country. Skiing was forbidden, the young Norwegians skiers were only allowed to compete if they did it with the Germans. The proud young Norwegian athletes refused to do that.
That spirit of determination led Stein to win the Gold medal at he 1952 Olympics by a hair. Stein was rounding a gate in the Giant slalom when his skis slipped. Stein's mother thinking he was going to do well, threw herself on the ground, thinking it was all over for her son. A reporter went over to her and said, "Mrs. Eriksen. Your son has just won a gold medal for Norway."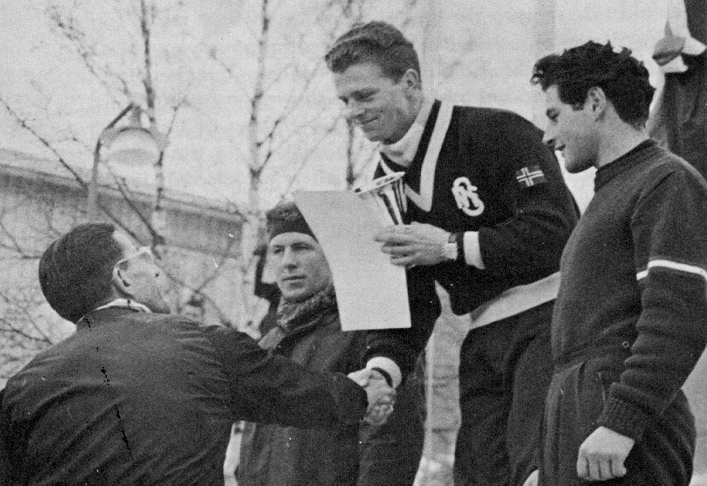 Stein had placed his fingers on the snow. His entire body was off the ground but he recovered his balance to win the Gold Medal. His gymnastic training was probably the key. That hand saved him. His father, Marius was an Olympic gymnast. Unfortunately his father did not see his son win the Olympic medal.
Marius passed away when Stein was younger. Stein also won a silver medal and came very close to yet another. It was the proudest moment in Stein's life to win the gold medal in Alpine Skiing. It was the first time this new category was in the Olympics. Stein put his country back into the forefront of the skiing world.
But Stein didn't stop there. He went on to sweep the world championships in Are, Sweden two years later with 3 Gold Medals. Then he took an offer to come to America and became the director of skiing at Stowe, Vermont.
Seven resorts later Stein landed at Deer Valley Resort. He was given a lifelong contract as Director of Skiing by friend and partner Edgar Stern. A bronze life-size statue of Stein is displayed today outside the Snow Park Lodge.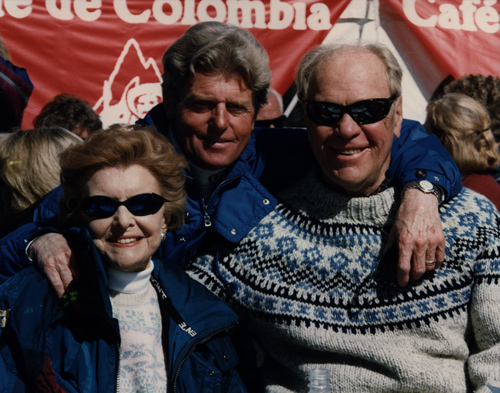 Stein never left the public eye for long. He is always willing to promote the sport he loves. Hundreds of thousands of skiers, in awe of his flawless technique, have shared the slopes with Stein over the decades. Stein's dedication and perfection to his country earned him a Knighthood from the King of Norway. Stein deserves it. He has served his country and the sport well. Sir Stein Eriksen. Stein is very proud to have the title but he's also playful about it. When we were an old acquaintance said hello to Stein and then congratulated him for his recent knighthood. Stein teased him. "Better be careful what you call me now."
Stein is known for a famous, impossible looking smooth turn dubbed "The Stein Turn." Skier after skier in the 1960s and 70s tried to emulate that famous form.
Johnny Carson had Stein on The Tonight Show to teach Johnny how to ski. A portable slope was used and of course Johnny used his priceless expressions when he hung onto the rails of the slope for dear life as his skis flailed about. Stein smoothly sailed down the slopes to "oohs and ahh's" from the audience. That day was Johnny's anniversary. His wife was at the show. Johnny called Stein later and said he was so sore and exhausted for two days that he couldn't go out and celebrate with his wife.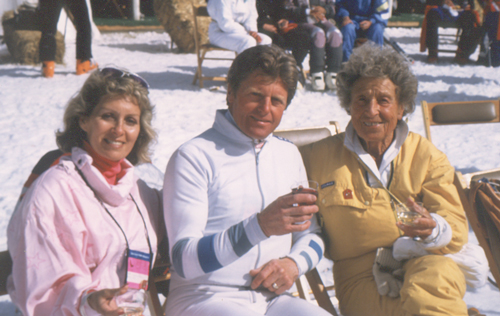 Stein loves people. He still loves skiing. He skies every day of the winter season. Mitt Romney, former head of SLOC and Governor of Massachusetts said, "The Olympics would not have come to Salt Lake City if it weren't for Stein. No doubt about it."
As the years go by his family has become more and more a source of great pleasure to Stein I was at his home when Ava called and told him she was pregnant. Stein was so proud. His joy heartfelt and apparent.
Stein's wife, Francoise, a powerhouse of energy and a great hostess and cook, serves as a beautiful companion to his life. She doesn't care for skiing as much as he does but when they came out with the new shorter skis, she improved quickly and now goes out on the slopes often with either Stein or her friends.
Love and passion are at the heart of Stein's life. Stein is very proud of his Wall of Skiing History, featuring pictures of prominent moments and people in his life.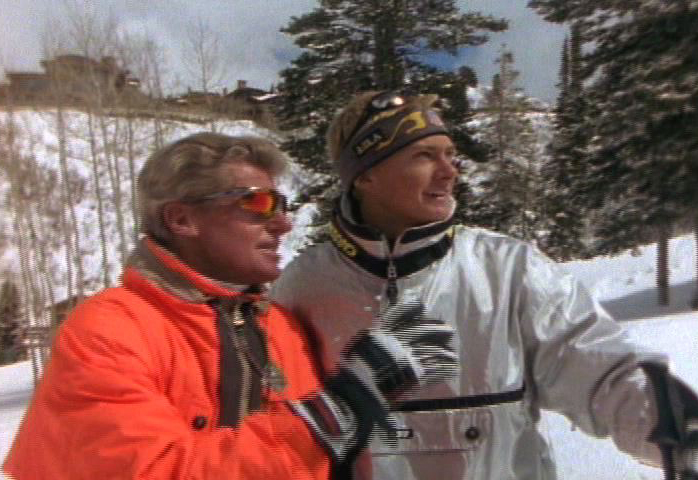 Whether in a thousands of dollars Bogner ski outfit, the "Suit du Jour" or in his warm-up and wooden clogs, Stein is a man in love with mountains, bringing the joy of nature's winter gifts to skiers everywhere.
Stein admires loyalty in his friends. Once you make it into his circle of friends, you've got a space. Stein holds you in that hero's heart.
Stein's memory is incredible. Once we were out at a Park City restaurant. Someone came up and asked Stein for his autograph. Afterward Stein looked at Francoise and remarked, "Its not over yet." No. This heros journey is not done.