Stein Eriksen: One of the Most Important
Skiers Who Ever Lived
Stein Eriksen broke into the ski scene in a huge way when he won the 1952 Gold Medal for Slalom skiing in his native Oslo, Norway. He also won a Silver medal in Combined and went onto to win 3 gold medals in the World Championships in Switzerland in 1954.
When Stein decided to go professional he came to America to become a ski school director at Boyne Mountain Michigan. 7 resorts later Stein had settled into a lifelong role as Director of Skiing at Deer Valley Resort in Park City Utah, his home.
While other famous skiers have won Gold Medals every time there is a championship or an Olympics, none have had the staying power of Stein. Stein has been the most legendary skier, perhaps of all time. Why?
There are several very good reasons. Here they are: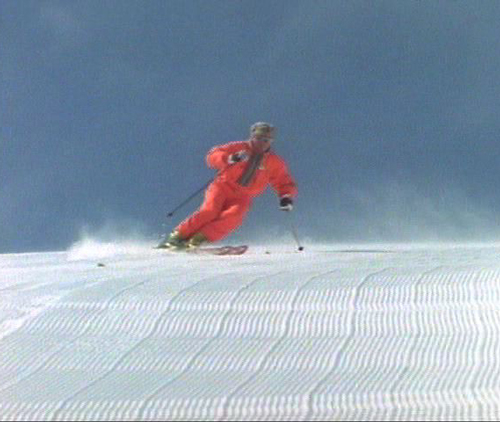 Stein was the first to win a Gold Medal in the Olympics in Slalom Skiing.
Stein created a spectacular turn called none other that "The Stein Turn" an impossibly beautiful and graceful movement that worked perfectly with the forces of the mountain, the body and gravity.
Stein was The Father of Freestyle skiing with his development of the Layout flip. He was one of the first to do the flip but certainly the first to do the layout – a swan dive type flip which he did every Sunday at 1:00 PM for spectators.
Stein drew spectators on the slopes wherever he went because of a combination of extreme good Nordic looks, great charm and those gorgeous Bogner ski outfits made by friend Willy Bogner also helped.
Stein along with developer Edgar Stern dreamed up a new standard of skiing in America based on the best of the European resorts. Deer Valley was designed as a resort to raise the standard of skiing to a much higher level.
As part of Deer Valley Resort, Stein and Edgar also created the first true luxury Lodge in America, The Stein Eriksen Lodge which consistently wins awards for spa, cuisine and accommodations from Travel Services around the world.
Perhaps written about in more skiing articles than any other skier, he also appeared on TV, on the Johnny Carson Show and on his own ski show, "Ski with Stein." Stein was always in the public eye.
The King of Norway knighted Stein in 1997 a feat no other Olympic skier has accomplished.
By all these accomplishments Stein has carved his ways into skiers hearts across the decades and his legacy continues to inspire skiers everywhere.
More Articles: